6/2/08
Wow, it's been a long time! The most important message to relay is that Tony Maldonado has taken over as artist from Max Velati. Max worked hard for 3 years, drawing around 150 episodes of Lab Bratz, but the time has come for him to move on to other pursuits and I wish him all the best. Max gave me enough of a heads-up that I was able to conduct a talent search for his replacement. Tony's style is very different, but is also full of energy and I hope everyone agrees that he's the right guy for the job, because he has my full support! Look for lots of site changes over the next few months as Tony gets fully integrated into the Lab Bratz Universe!
11/25/07
I'm really happy to announce that we have struck a deal with the wonderful folks at Scientist Solutions to the exclusive distributor for Lab Bratz. Their website contains science news and forums for scientists from all over the world to meet and talk. We are proud to be heading up their 'Lighter Side of Science' section, which will soon feature our archives and will be the place to go to see unique Lab Bratz content. In addition, Scientist Solutions will coordinate all Lab Bratz merchandising and promotions, which will allow Max and I to focus on what we do best...create science fun every week. More on this excellent news as it develops!
8/12/07
Lots of news! I changed my real world job, so schedules have been a bit wonky lately. Max and I received a nice webcomic review here. I was also interviewed in The Scientist for the new comic book that Max and I did for PBL interferon source called, "Interferon Force". Lots of good press!
4/25/07
I'm recently returned from this year's AACR meeting (cancer research) that was held in LA. I met a lot of cool people, both science-wise and Lab Bratz-wise. I'd like to welcome new sponsor, Scientist Solutions! They'll be here for a while, so stop by their scientist blog site and register to get a car (I know I want one!). They're good people.
12/3/06
If you would like to see "They're Taking the Hobbits to Isengard" for yourself, check it out here:
10/27/06
Last night I hung out with Jorge Cham, the creator of the grad student webcomic, "Piled Higher and Deeper" (PhD). That was fun. Jorge writes a funny comic, but unlike me he is very quiet and totally nice. I hope we get the chance to meet again, but in the meantime, I'll try to keep in contact with him and follow his online comic, which comes out MWF. I hope to do an academic webcomic cross-over someday, with Professor Smith speaking on the Lab Bratz campus and perhaps Dr. Ruby delivering a guest lecture at PhD.
10/24/06
This week and next week we feature Star Wars themed costumes for Halloween. All designed by Maxie for the rest of the Lab Bratz, of course.
10/3/06
Busy month! Max and I have put together some custom episodes for a couple more companies. Lab Bratz is appearing in the monthly newsletter of a biological supply company and Lab Manager Magazine has asked us to become a regular feature for 2007! We are very psyched! Because of the extra work, I've put together more fill-ins than usual, but they are new jokes using Max's art. Remember to tell your friends to stop by!
9/02/06
My good buddy Jon gave one of my kids a Playskool Star Wars - Mr. Potato Head figure...Artoo Potatoo. Very cute! At Christmas he gave him a Darth Tater figure and a Spud Trooper figure. I want to be the first to say that they should make a Jedi figure called Idaho Kenobi. Go ahead and Google it...I'm the first! Somebody beat me to Anakin Frywalker...
8/25/06
Well,the Comicgenesis folks decided to enforce their ad policy by sticking their obligatory ad above the comic, instead of below it where it was more asthetically pleasing. I don't make money off of that ad, but it does support the site so I guess I shouldn't complain.
8/24/06
I should have mentioned it earlier, but we have a new sponsor on the site. YellowIbis.com makes cool science T-shirts and I hope everyone goes to their site and checks them out. They have a sale right now for 15% off, so hurry!
7/30/06
I'd like everyone to know that Lab Bratz is now appearing in "Lab Manager Magazine", a bimonthly journal for laboratory professionals with an estimated circulation of 30,000. We'll be in both the online version of Lab Manager Magazine and the print version, which can be ordered on their site. I'm very excited about this development! The editor there has treated us very well and we look forward to a long relationship with the magazine.
6/10/06
I really ought to update this page more often! The last month or so has seen us building readership and connecting with companies who want to use Lab Bratz strips in their advertising, newsletters and on their websites! We are also in negotiations for Lab Bratz to appear in a laboratory-focused magazine every issue! I'll announce that when the deal is completed.
4/13/06
I'd like to extend a warm welcome to the Lung Cancer Alliance, a patient support and advocacy organization. Please visit their site and help them out in any way you can.
4/09/06
Another busy month! I've just returned from a major science conference (American Association for Cancer Research) where I received a ton of positive feedback! Quite a few companies have expressed an interest in licensing Lab Bratz for their websites or newsletters, so it was a very productive meeting for me. I met a lot of great people and I ended up with more promotional swag (pens, mugs, bags, candy, you name it!) from various biotech and pharmaceutical companies than ever before. I also presented a poster of my recent data (real world), just like Dodds and Maxie did in the webcomic.
3/01/06
Wow, what a busy month! I've gotten a lot of positive feedback on the site redesign. Last month our web traffic doubled! We got over 150,000 hits, thanks to a strong word-of-mouth campaign! The advertising program is in full swing and I've been in contact with some science companies and a couple of webcomic creators. We are also hosting ads from Chitika eminimalls and bannerboxes.com. Chitika has a referral program (see the button on the left) that can help others generate income on their website while Max and I get a piece of the action for referring them. Pretty sweet!
2/05/06
The redesign is complete and in place! I hope you folks like how it looks. Now, I will be looking for sponsors to both help us pay the bills around here and to boost the sponsors' own webcomics or products. We've been getting quite a bit of traffic on this site and we might as well put that to good use!
1/28/06
I've been designing a new webpage layout that will look more professional and have space for sponsors to advertise on the site. I'm done with most of the html coding (although I'm certainly no code-monkey) and I'm looking at a few biotecnology companies for bigger ads and perhaps a few webcomics to sponsor smaller banners. If you work for anyone who might be interested in advertising here, let me know at: Lab Bratz Advertising.
12/4/05
So, what do you think of the stream-lined main page? I pulled out a bunch of text that no one was reading, trimmed the top border of the comic so that most or all of the comic appears on your screen without needing to scroll down, and replaced a standard text title with the logo. I was thinking of adding character shots alongside the logo...too much or "cool!"? Drop us a line at: Lab Bratz Email or post on the forums above. I've also been promoting Lab Bratz by joining some webrings and banner exchanges to bring in more traffic. We'll see if that works!
11/19/05
Look out! This Monday's episode is going to be a double-sized helping of Lab Bratz fun! Alert the media!
11/18/05
As noted on the comic pages, our URL will be changing to http://LabBratz.comicgenesis.com . There shouldn't be a problem with the switchover unless you haven't upated your bookmarks 6 months from now. In the meantime, everybody should be re-routed there automatically. If anyone experiences difficulties with this, please let me know ASAP!
10/30/05
Happy Halloween! Things are moving along nicely. We've been doing well on some of the voting sites, which has raised some awareness of our strip, so thanks to everyone who takes the time to vote every week! I've been toying with the idea of starting a blog "written" by the various Lab Bratz characters, called Lab Blogz. I'd post it several times per week on the front page of the strip once I do the re-design. Any feedback on this idea would be appreciated.
10/8/05
Sorry about last week's strip posting late...ComicGenesis (our host) had issues, in the form of major clogs, which affected over 6,000 webcomics. Monday's episode is already lettered and resting in the queue.
9/18/05
Has it really been 2 months since I posted news? I'm sorry about that. At least the strip has gone up every Monday without fail! We recently donated a webcomic to the Hurricane Katrina Disaster Relief Webcomic Telethon, which generated over $28,000 through the Red Cross in only a few days! The telethon is over, so here is a copy of that strip for our fans.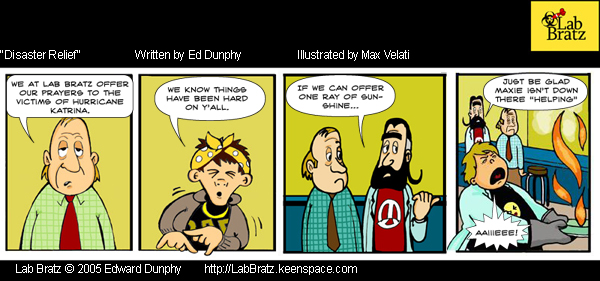 7/10/05
The next episode is loaded and ready for Monday! I've also added more links on the site. The main page now includes a Tip Jar for donations through PayPal. I think you need a PayPal account to use it, as we're not set up yet for credit cards. There is no obligation to donate, but until we collect the strips into paper format (we need at least year's worth of material for that), it's the main way of defraying costs. I've also added links to webcomic voting sites. If you click on these, you can vote for Lab Bratz as one of your favorite online comics. Thanks for helping us out! And let us know what you think of the strips so far!
6/20/05
Well, I know it's been a while, but we have been busy. I've been making the rounds talking up the strip, and we've been seeing traffic from Onlinecomics.net Belfry Index and other webcomic directories. This week, we ran a bit behind, and so I've posted a "fill-in" episode featuring Mike Nanz. I hope you like it!
5/23/05
I'm finally getting some outside links together, so below is the placekeeper image of Nanz that I had for a while now.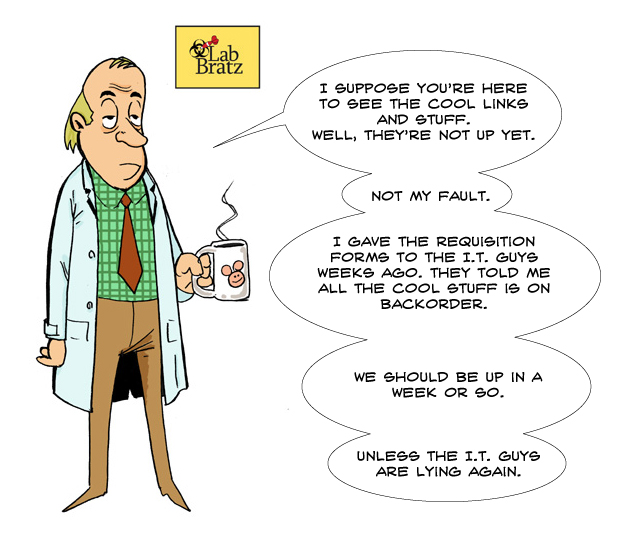 4/29/05
OK, I signed up for a Hotmail account, so now you can write to us directly at: Lab Bratz Email. Now don't go filling my inbox with Spam. That stuff tastes vile...
4/28/05
Things have been going pretty well around here. So far, the episodes have been up on time, and I've been very happy with Max Velati's art! In fact, I was concerned that the lettering was covering up too much of the art, so I relettered all the episodes. I'm happier with the way it looks now.
My lovely wife, Kas, jumped the gun a bit and told a bunch of her friends and relatives about the website (Hi!). I WAS trying to keep it quiet until we had worked all the bugs out...whatever...welcome to the Lab Bratz website! Might as well let EVERYONE know about us now.
It's early, but we haven't been getting as many people registering at the Lab Bratz forums as have been visiting so far. Since my email isn't posted on the site (still debating whether to do that or not), the forums are the only way to contact me about Lab Bratz. Of course, you can go to the store link and buy some Lab Bratz merchandise through Cafepress.com. That would be a nice way to say that you support our work!. Let us know if you want to see different merchandise in the future. We will have cast images on merchandise in the near future, so that you can have Mike Nanz' glum mug on your coffee mug, Al Ruby's cheerful, glazed grin on your beer stein, or Maxie's happy smile on your thong.
OK, maybe not that.
4/16/05
For those of you who were interested in seeing the firewall message by O'Grady, I've decided to post it here too!